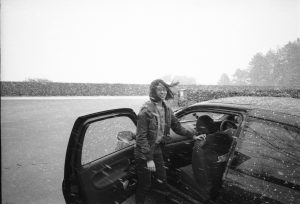 My work is about cities, buildings, and landscapes. But it is not about designing these, in the traditional sense. Rather, it is perhaps as if I am standing on the outside and reading them as if they are artefacts of a distant civilisation. At other times, I might be deep within them so that the outside no longer matters. I look for the alchemy of transformation when base materials that cities are made of transmute into nostalgia, mythology and desire.
I grew up in Beckton, London and currently live in Hackney. I like it in Hackney but I'd rather live in Glasgow. I was born in London of Burmese heritage.
---
Education
Bartlett School of Architecture, UCL
MArch Urban Design
Passed with Distinction
Queens' College, Cambridge
BA (Hons) Architecture
---
Exhibitions & Projects
2017 – Platforms Projects Art Fair, with Lubomirov Angus-Hughes (Athens)
2017 – Stimulus – Greenhouse (Berlin)
2017 – Antennae – Lubomirov Angus-Hughes (London)
2017 – Summer Exhibition – Boundary Road Gallery (London)
2017 – Open Contemporary Young Artist Award Show – Biscuit Factory (Newcastle)
2017 – Open Houses Arts Trail – Saltaire Inspired (Yorkshire)
2017 – In the Basement – Star of Kings (London)
2017 – At This Point in Time – Scottish Arts Club (Edinburgh)
2016 – Christmas Bazaar – Lubomirov Angus-Hughes (London)
2016 – ING Discerning Eye – Mall Galleries (London)
2016 – What is the Point? – Strand Gallery (London)
2016 – Avian Avenue (Stoke-on-Trent)
2015-16 – Castle Drogo Inside Out – National Trust Castle Drogo (Devon, UK)
2015 – Hidden Narratives of Empty Spaces – Peckham Pelican (London)
2012 – The Bird House (London)
2011-13 – Sound Tracks Festival (London)
Awards & Residencies
Open Contemporary Young Artist Award 2017 – Finalist
Venice Biennale / British Council Research & Stewardship Residency (2017)
Appetite Stoke / Arts Council (2015) – Grant funding for Avian Avenue
Sky Arts Award (2012) – Shortlisted
Room for London (2012)
Selected Press
TV & Radio
BBC TV London news
BBC Radio Stoke
London Fields Radio
Hoxton Radio
Quest Radio
Printed Press
London Evening Standard
Hackney Gazette
Docklands Paper
Tavistock Times
Stoke Sentinel
Web
Vice Magazine
Time Out
Londonist
---
Amanda works under the moniker Places & Things. 
She is also a founding member of artist collective Dovetail Foundry.
---
To be sent a list of currently available works, please enter your email below: